Watch the teaser of the film:
Can we turn off the news feed?
SLOW NEWS
directed by Alberto Puliafito
produced by Fulvio Nebbia
an IK Produzioni production
in collaboration with Slow News
in co-production with BabyDoc Film
with the participation of
University of Oregon School of Journalism and Communication
European Journalism Centre
FJUM_Forum Journalismus und Medien Wien
realised with the support of Piemonte Doc Film Fund – Fondo Regionale per il Documentario
in collaboration with Trentino Film Commission
written by Andrea Coccia, Fulvio Nebbia, Alberto Puliafito
music by Alessandro Zangrossi
"Fake news is a ridiculous fake label."
Jeff Jarvis, journalist
A man punches a kangaroo: animal rights activists get shocked. The sexy teacher. Trump tweets. Chemtrails, anti-vaccines, 30 EUR per immigrant, breaking news: the West is drowning in information overload. False newspapers with true hoaxes, real newspapers with fake news, readers who believe in everything and nothing at the same time. These are the consequences of a click-based model of business.
Is everything lost? Maybe not. A group of diehard Italian journalists is trying to put back things in their right places. They are not alone. All over Europe, little groups of resilient journalists stand still. In England some of them started a competition to be the last ones to get on the news. Others are doing the same in the Netherlands, in Denmark, in France. They don't know each other, but they are all trying to slow down the news feed. Meanwhile, in Oregon, USA, the old professor Peter Laufer cultivates the dream of slow news. Their paths are about to cross. Will they build something new?
"If you want the trust of the public, you have to begin by trusting them"
Mark Thompson, CEO The New York Times Company
Follow Slow News on Facebook and Youtube.
Why Slow News?
Director's note
"Slow News" tells a story that concerns us all, I am deeply certain of this. In these "director's notes", which are very personal, I try to explain why.
When I first thought about this documentary, I had come to a crucial point in my life as a journalist, director, father, person. Every day, for twenty years, I've been working and living with content. I write, I shoot, I read, I watch, I tell stories to my children. Every day, like everyone else, I'm literally overwhelmed with content: words, images, sounds reach me at all times of my existence.
It's a path that seems both irreversible and irresistible: we're going to an infinite entertainment world, a seamless information flow.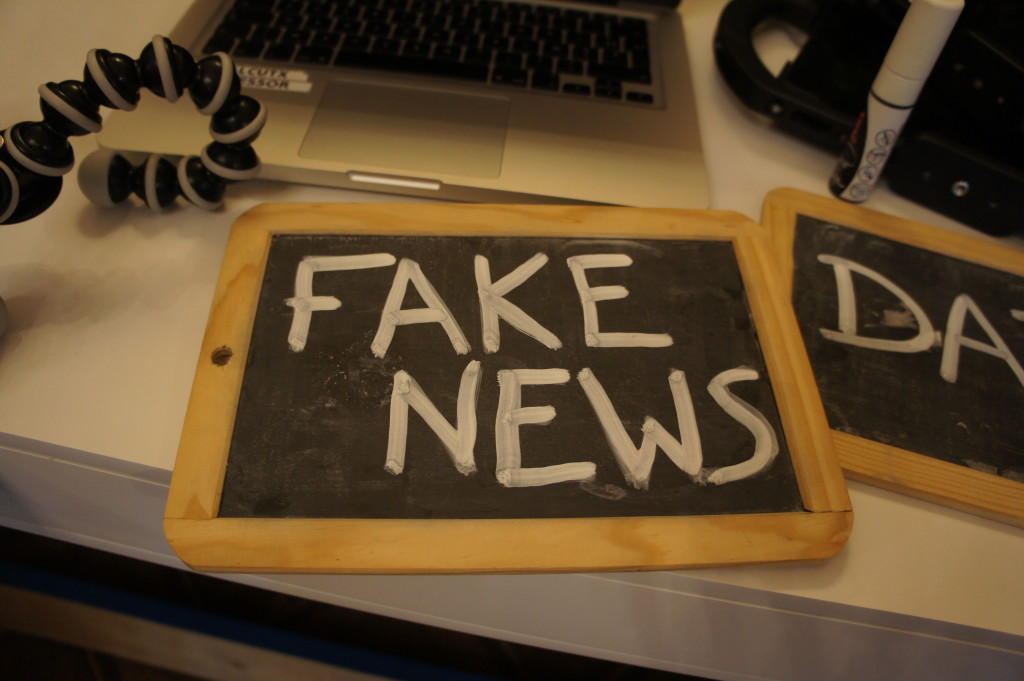 Today I do not remember where I read news for the first time, and that takes away the value news had once. I find no satisfaction in following a *live broadcasting *about a breaking news, neither as a journalist nor as a reader or spectator.
I feel anxiety and annoyance for the apocalyptic tones used and the sense of frustration when I realize that the facts that you have to deal with are too volatile to handle them seriously.
From a professional point of view, I realized that everyone has become a potential producer and even a potential broadcaster. We produce content that has never been produced before, with ever lower costs: they have become a commodity. As a person who uses social networks, watches television, reads, I can no longer support the entertainment that blends into journalistic information. And the information overload is scary: in sixty seconds, a quantity of content that the human brain can not process is produced and scattered. How do I think that my movie, my picture, a text can really compete in terms of attention with everything that is written, photographed and shot?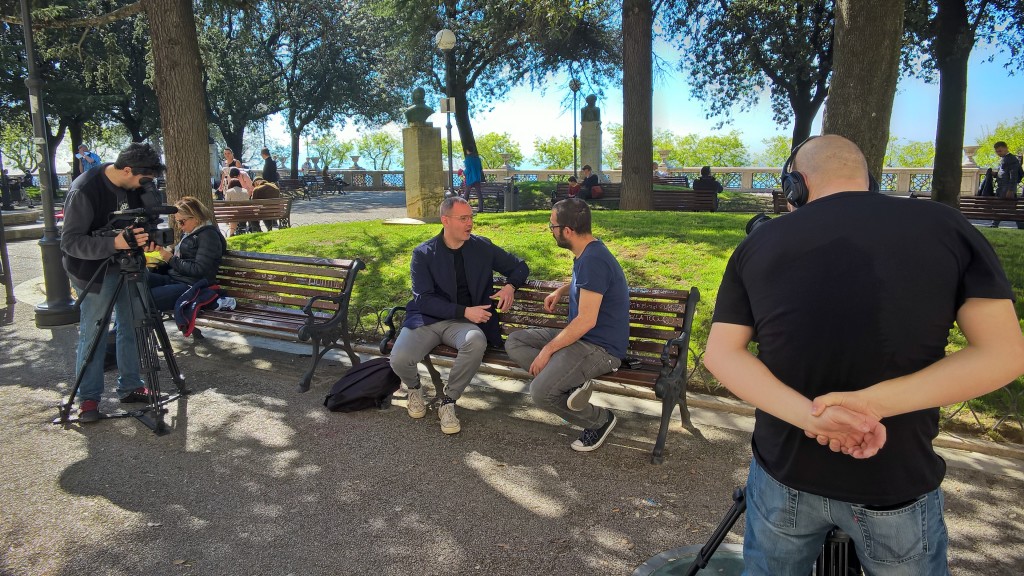 Time is our only treasure and content expand to occupy it as much as possible. Content are gaseous. This uninterrupted flow has consequences on the world we live in, on society, on our behaviours. Breaking anxiety generates convictions that consolidate in the long run: there are people who really think that a refugee is being given money every day. That the Munich shooting was carried out by an Islamic fighter. But for many years we have also been convinced that there were weapons of mass destruction in Iraq. And for centuries, Constantine's donation was true.
In this scenario, contemporary journalism has enormous responsibilities and would have an extraordinary challenge to tackle. But it seems to prefer to strike behind position earnings, to blame social networks or ignorant readers or who knows what another enemy.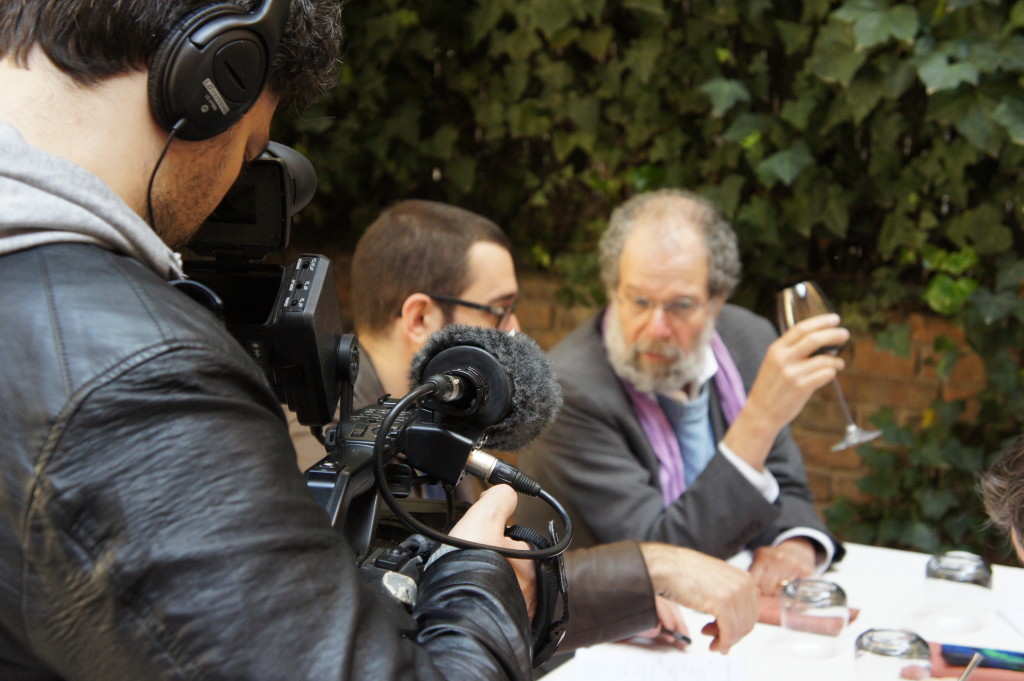 So, here are the questions I started to ask myself. Is this infinite news feed toxic? Content amount and speed can be stopped? Can we slow down? Do we really have to be obsessed with "clicks", we really care about how many readers are reading us, how many people do we know. "Likes" are important? Do we really live in the post-truth era? What is the "fake news" label? Have we invented them with the web? Do we have to blame Facebook for hoax spreading? Has journalism lost its social role? Can you curb the flow, the viral spread of irrelevant or incorrect issues? What are the social bodies we can create? And then, why should all this affect anyone?
The last question has an easy answer: it should concern anyone because knowledge means power and freedom. And because the unspoken mass of content makes learning more and more difficult, almost impossible.
But paradoxically, this is particularly true on the web: in that portion of reality that also contains opportunities to build an alternative.
These thoughts inspired me to imagine this documentary. It is an urgent matter that has much to do with real life, with people, with words and images and the consequences that words and images have on us all. In other words, it is a vital urgency.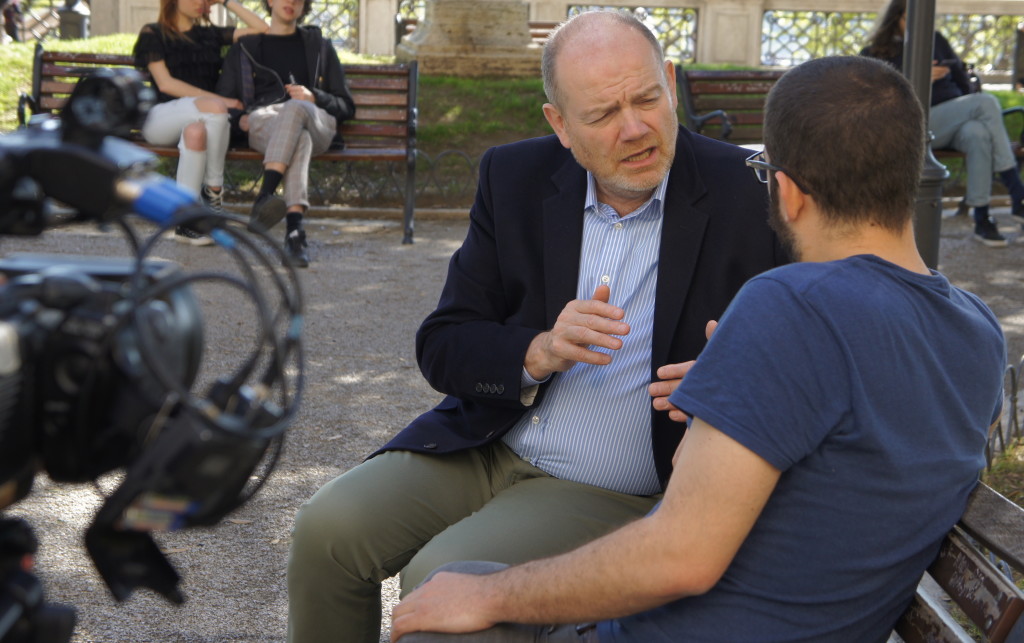 "Slow News" is a contemporary story, a look on reality. It is an analytical documentary film, with a "destruens part" and a "construens part": arises from the awareness that digital is one of the concauses of the crisis of journalism. But at the same time, it is in the digital world that there are chances to get out of this crisis, because the web is an ecosystem and, like all ecosystems, contains prey and predators, problems and solutions. Because the digital world is real. Digital is part of reality and as we shouldn't demonize it. Digital is a medium. Men and women acts.
"Slow News" is a journey around the world, looking for all those journalistic realities that have chosen to slow down or be "viral responsibly".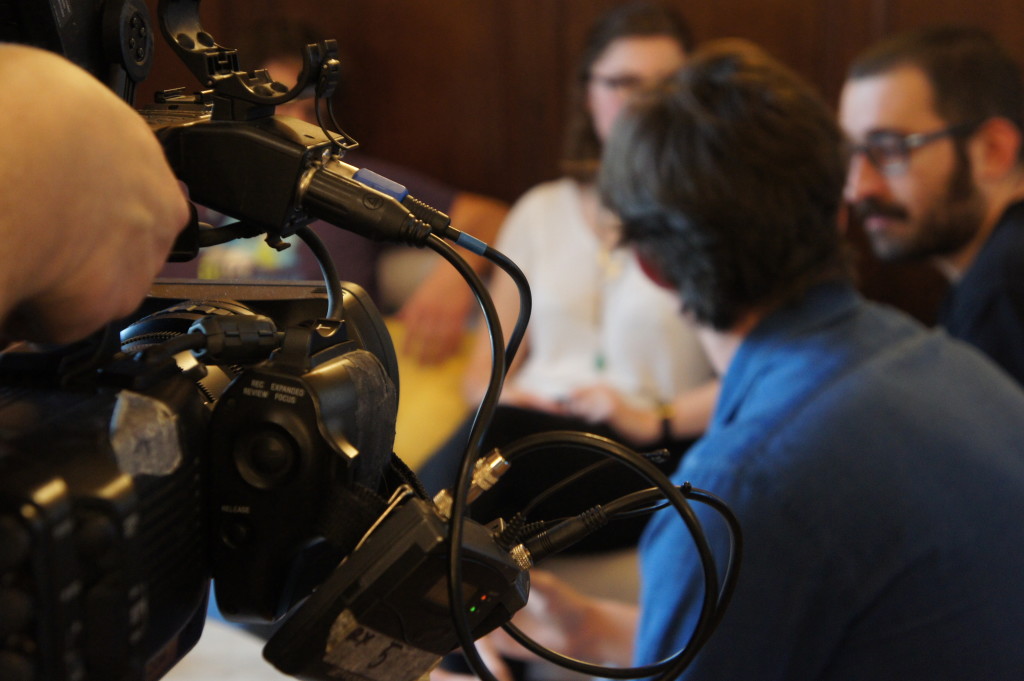 "Slow News" proposes through the flow of images the tremendous amount of stimuli we receive daily, destroying bad news practices, their senseless speed, their dramatic consequences, with a realistic, tight and fast editing. At the same time, it builds meaning and spaces of reflection with openings, more austere moments, long fields, shots that create temporal places where to stop and reflect. Just as the advocates of slow journalism in the world have created a movement — sometimes unaware — that it stops and makes slowness and deepening a value, the only one to pursue.
In spite of Scythian intentions, however, two opposing worlds are proposed: Slow information and the great players of the Silicon Valley, the so-called Over The Top Companies, which aspire to an increasingly pervasive role in the lives of each of us, which can monetize user generated content, which monopolize the content discovery and the customer journey on the whole internet. Between these two words, the newspapers have been crushed by a business model that forces them — by choice, it is clear, and because of the lack of will or strength to adapt flexibly to change — pursuing quantity rather than quality, clicks, bite-and-run readers, all at the expense of added value and journalism itself.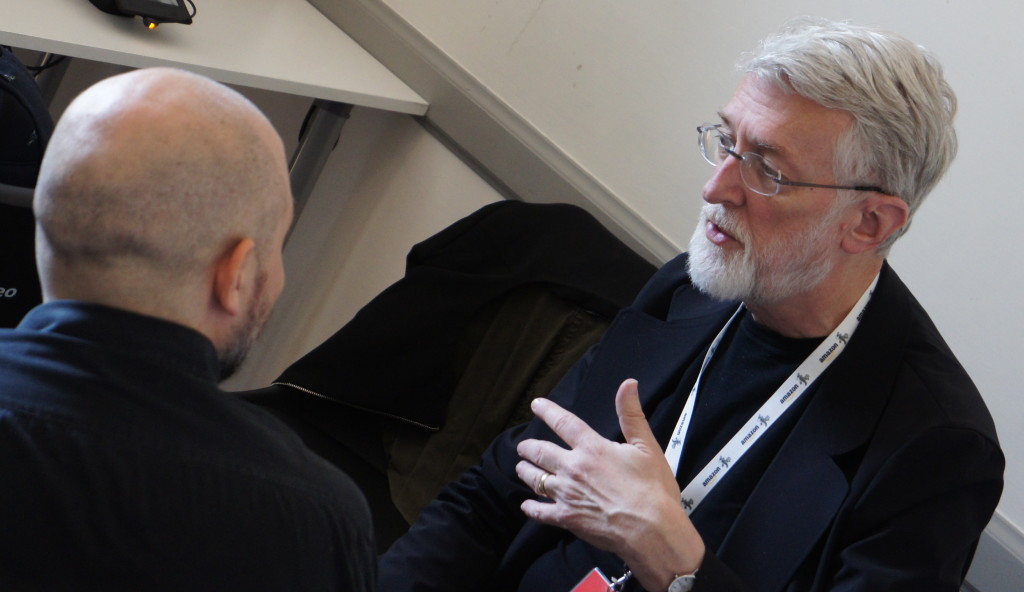 Without yielding to resentment or trivial simplifications, the intent is to propose a breakdown of reality on a crucial topic such as information, to tell the state of the art and to propose a radically different pattern from what has gone into the Western world, because this pattern has a short breath.
I think we need to talk about these issues not to the news professionals, but to the public. We have to speak to those readers who are increasingly frustrated with the invasion of superfluous, unverified, mediocre content when not absolutely insignificant, useless, even damaging.
"Slow News" is something more than a title, a trademark, a label, a documentary.
It is a way of thinking, dealing with contemporaneity, looking to the future, and without losing the past.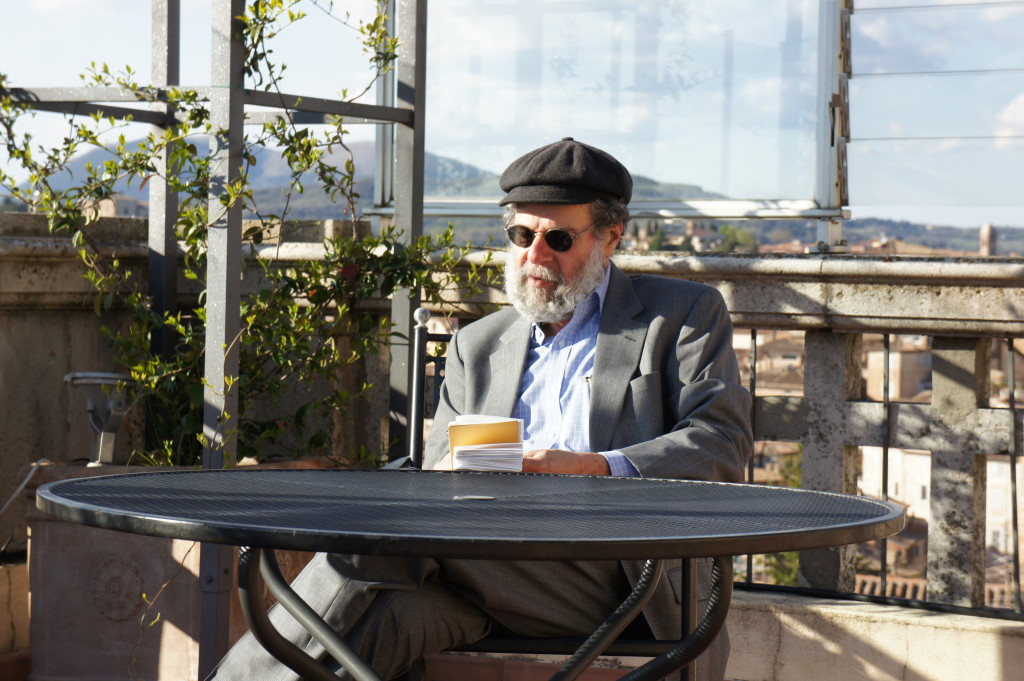 ©2017 – all rights reserved
_______________________________
Il diario di SLOW NEWS
(Italian)
Le sfide del presente e del futuro per il giornalismo. La crisi, la carta, l'ossessione per i click, le gallery, i titoli ad effetto, emozionali, le fake news, la verifica delle fonti che viene meno per lasciar spazio a una velocità senza senso, la necessità di rallentare e di creare un movimento slow news. I modelli di business e la sostenibilità, l'ossessione per la tecnologia, la carta, il sovraccarico informativo.
Sono questi alcuni dei temi trattati in Slow News, un documentario di Andrea Coccia, Fulvio Nebbia e Alberto Puliafito, per avvicinare al mondo del giornalismo non solo gli addetti ai lavori ma anche i curiosi, i lettori, le persone che vogliono essere informate, che non vogliono cedere all'ennesima guerra di click, all'ennesima notizia inaccurata. C'è anche chi pensa che tutto questo non gli riguardi. Ebbene, Slow News, con il linguaggio della satira, parla anche a quelle persone.
Slow News e le fake news 
Il tema delle 
fake news
è diventato di moda dopo la vittoria di Trump alle elezioni presidenziali americane nel 2016 e si è rapidamente trasformato in una
buzzword
, l'ennesima parola di moda che lentamente si svuota di significato.
Al Festival internazionale di Perugia abbiamo intervistato brevemente Jeff Jarvis.
«"Fake news" is a ridiculous fake label»,
ci ha detto il giornalista americano.
Il problema delle fake news si è senz'altro amplificato perché quantità e velocità sono favorite e crescono a dismisura sul digitale e perché, come ci ha spiegato anche Craig Silverman, è un vero e proprio modello di business.
Ma è una storia che, declinata a seconda delle caratteristiche del periodo storico, è sempre esistita: sono sempre esistite le bufale, sono sempre esistiti i percorsi cognitivi autoconfermativi, sono sempre esistite anche le notizie pilotate sui veri giornali.
Il "rebranding" da News Feed a Slow News
Il titolo provvisorio del nostro documentario era News Feed. Dopo una serie di riflessioni abbiamo deciso di modificarlo in Slow News.
Qui abbiamo spiegato perché. E in questo breve video c'è, in pochi secondi, il "rebranding".
Ma che cos'è esattamente il news feed?
Feed significa flusso. News feed significa flusso di notizie. In gergo tecnico e sul web, però, news feed significa una cosa ben precisa: indica un formato di dati che viene utilizzato per fornire alle persone iscritte a quel flusso contenuti frequentemente aggiornati, senza soluzione di continuità. I distributori di contenuti erogano un feed e consentono alle persone, appunto, di iscriversi ad esso.
Il feed più noto come formato è l'RSS.
I giornali online internazionali hanno spesso una sezione che si chiama newsfeed (il Time, per esempio, o NewsWeek).
Con l'avvento di Facebook nelle nostre presenze digitali (e conseguentemente anche nella vita analogica), il news feed più noto è diventato proprio quello dell'azienda di Mark Zuckerberg. L'algoritmo di Facebook serve proprio a determinare come ciascuno di noi visualizza il proprio flusso di condivisioni provenienti da "amici" o pagine che seguiamo sul popolarissimo social network.
News feed è un modo di dire che, piano piano, conoscono tutti. Ecco perché era diventato il titolo di questo documentario che parla del flusso e che suggerisce modi e strategie per uscirne. Ma poi, proprio perché l'intento del nostro lavoro è quello di offrire una pars construens da affiancarsi alla pars destruens, abbiamo deciso di cambiare titolo e di farlo diventare, coerentemente con la nostra filosofia, Slow News.
Slow News e content marketing
Durante la preparazione, lo sviluppo e le ricerche, la realizzazione e le riprese, la post-produzione, la promozione e la distribuzione di Slow News, utilizziamo tutte le tecniche di content marketing che abbiamo a disposizione oggi grazie alle piattaforme digitali, su cui si possono imparare e applicare strategie e tecniche.
Slow News ha una pagina Facebook, una playlist su Youtube sul canale di iK Produzioni e molte altre declinazioni, che spiegheremo e mostreremo di volta in volta.
Mentre realizziamo il film, partecipiamo anche alle conversazioni online a proposito della sostenibilità del giornalismo, in modo da poter raggiungere la nicchia di persone realmente interessate al nostro lavoro.
Slow News è realizzato con il sostegno del Piemonte Doc Film Fund – Fondo Regionale per il Documentario.
Peter
Peter Laufer è il mentore. Giornalista e Professore dell'Università dell'Oregon, fondatore dello Slow news movement e autore del saggio Slow News.
©2017 – tutti i diritti riservati